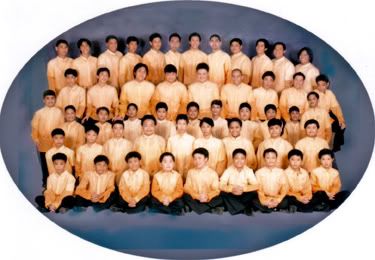 Last night I was talking to
Rox
through
SKYPE
giving me instructions on how to set up my mic and webcam. We set a schedule to have an online conference at 3:30 AM here (3:30 PM Manila time) to have a small talk with his students who are members of the
Kilyawan Boys Choir
. They have participated and won in the
World Choir Olympics
which was held last month at Xiamen , China .
Rox was able to organize a web conference of 10 educators/ teachers from all over the globe:
- Charles= Uganda
- Moira = London, UK
- Raine = Boston, USA
- Yaodong = China
- Yang = China
- Sara Yulan = China
- Venny= Taipei, Taiwan
- Maggie = China
- Rox= Quezon City, Philippines
- Marisol= Washington DC, USA
We were all having fun chatting with each other, listening to
Rox'
s students serenading us online during the webcast. It was so wonderful listening to the Claretian Choir's angelic voices, I am so proud of them!
Well, I got my
SKYPE
status button on the left sidebar now, so
SKYPE
me whenever I'm available and we can have a live chat. With
SKYPE
, you can make free conference calls and create multi-chats. Aside from chat, webcast and audiocast, we can interact through a virtual room with a blackboard where any of us can write on and show powerpoint slides. COOL! This is what we did with
Rox
last night. It's as simple as using
Yahoo Messenger (YM)
but it has a lot more features. TRY IT!!!
SKYPE
you later *wink!
***

Claret's Kilyawan Boys Choir in Manila Bulletin (click here)