TM06 Day 4, Saturday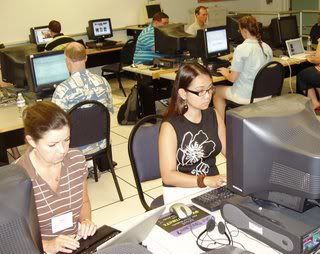 Today is the last day of our tech matters institute. We are tasked to present individually in class, to wrap up what we have learned from this week of brainstorming and sharing about powerful web tools that we can use in education, and where to go next.
'Blogs are much more than online journals when done right. They offer much more than the traditional tools in terms of giving voice, building community, enhancing learning not just from a writing standpoint.'
Will Richardson
Here's my thoughts:
Used as a teachers' bulletin board:
DC Area Writing Project's Blog
(click here) =
This WEBLOG or On Line Journal is the DC Area Writing Project's forum for conversation, mentoring, and exchanging information.
Used as an online magazine:
Quill and Keyboard Online
(click here) =
QUILL & KEYBOARD is the newsletter for the District of Columbia Writing Project (DCAWP) & Howard University School of Education.
Used as a venue for student collaboration:
The CyberPals Project
(click here)=
This collaborative project is designed to create a shared writing space for students who are geographically distant, by young writers from Washington DC to young writers from Western Massachusetts.
Where do we go from here?
Used as a venue for teacher collaboration:
Pinoy Teachers Network
(click here) =
PTN is already a growing e-community forged with the values of commitment and cooperation. The same values that inspire its members to continuously collaborate with in the network and outside of it. Using technology to reach out and connect with people and organizations, PTN is a living example on how collaboration can bridge the distance and fill the gaps.
Used as a venue for student collaboration:
E-Pals Project
(click here) =
electronic collaboration through a shared writing space (blog) for students and teachers around the world initiated by the
Pinoy Teachers Network
.
A little perk for us educator bloggers:
A Rewarding Opportunity for Teacher Bloggers :
"Best of the Education Blog" Awards
(click here) =
To showcase bloggers who are making a difference for educators and students around the world.