I am so happy when I got home from work today. I checked my email and saw that I got the award! The email (addressed to my principal) reads...
Dear Mr. Mensa Maa,
TeachersFirst
is pleased to announce that one of your teachers, Maria Lourdes C. Angala, has been selected to receive honors for her
TeachersFirst Class Blog
. Ms. Angala's class blog,
A Digital Anthology
, exemplifies highly effective use of technology in support of learning. Her responses and reflections about using a blog in the classroom and on integrating technology in general indicate that Ms. Angala is a true model for her peers. Her efforts to motivate and build writing skills in her exceptional students are truly exemplary.
Ms. Angala is being recognized for actively using a classroom blog with students to facilitate student understanding of curriculum, encourage writing as _expression, and promote good writing skills. We understand that she has also been providing inservice training to her teaching peers at Jefferson Junior High. You and your staff are to be commended for your support of technology as a teaching tool. Blogging is one of the hottest and most successful new uses of technology in the classroom, as witnessed by its prevalence at the National Educational Computing Conference this past summer, and your teachers are definitely in the forefront.
TeachersFirst
is a teacher resource web site that has been serving teachers at no cost and without advertising clutter since 1998. Our mission is to save teachers time in locating the best resources and ideas for using technology to facilitate learning. We believe strongly in the power of individual teachers to collaborate and share best practices, just as Ms. Angala has done. Our resources are all reviewed or created by experienced teachers. Our parent company, NITV, a not-for-profit corporation, provides TeachersFirst as a service to teachers, students, and parents around the world. We welcome your teachers to explore our site, if they have not already.
I hope you will read Ms. Angala's
contributions to our blogging tool reviews
and
see more about her honor as our TeachersFirst Class Blog
(please navigate the left sidebar) teacher. Your faculty might enjoy reading (and contributing to) some of
the other classroom blog ideas
, as well.
Again, congratulations to Ms Angala and to your school.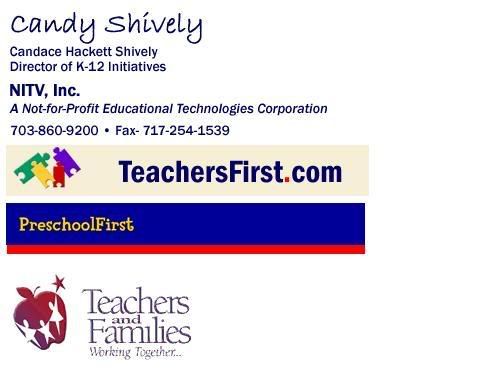 Here's my Certificate of Recognition (click here):
http://h1.ripway.com/jeffersonjhs/Angala_TeachersFirst_class_blog_certificate[1].pdf
Thanks also to Kevin Hodgson from Massachusetts, my
NWP
colleague and CyberPal, for the congratulatory space in
his blog
.
See you in Nashville for the NWP Annual Conference!
And to my
DCPS
colleague and mentor,
Jean Savoy
, who nominated me for this award...
I owe you a dinner, let me know your most convenient time *wink.
Thank you so much! It's indeed an honor for me and my exceptional students.