TM06 Day 2, Thursday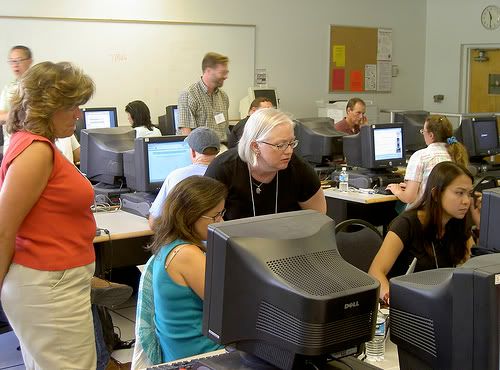 With all these new powerful web tools that I've been learning from my NWPTech Matters 06 Institute:
blogs
,
wikis
,
podcasts
,
RSS
,
bloglines
,
del.icio.us
,
furl
, etc, I have only one word to describe how I feel right now, EXCITED *smile!
These powerful web tools for classrooms make learning more fun, interactive and collaborative. I am excited to bring back all the knowledge that I've acquired here to my NWP site. Some teachers will surely be interested to collaborate with me. Though it's sad that the technology in most districts cannot keep up with the explosion of internet technology (most schools don't even have decent computer labs). This limits the vast possibilities of what teachers and students can do to collaborate and publish on the read/ write web.
My question in mind is: do we have to limit the collaboration among us NWP teacher consultants/ tech liaisons only? Can we extend/ expand our collaborative projects internationally? I am sure there are also other teachers teaching technology in other parts of the globe who are very interested to open up to multi cultural collaborative projects, not just us. It will give us a new model in using this collaborative tool.
Here are some important resources for teachers teaching technology:
-
7 Things You Should Know About PODCASTING
-
7 Things You Should Know About WIKIS
-
7 Things You Should Know About Collaborative Editing
-
7 Things You Should Know About Social Bookmarking
-
7 Things You Should Know About Screencasting
-
7 Things You Should Know About Videoblogging